Another exceptional dinner at Oakland's newest hot spot Bardo Lounge and Supper Club, located at 3343 Lakeshore Avenue in Oakland.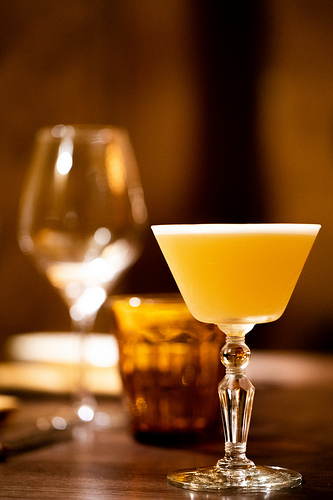 Pictured here is the Velvet Sour, lively, sexy with a touch of heat: Hennessy Black, Mathilde Pear liquer, Fire Bitters,Orgeat, Fresh Lemon Juice, and Egg White. Supper highlights include the foie gras cacio e pepe and an exceptional vegan charred brassica. Great cocktails and dinning in a stylish mid-century lounge and supper club.
Owners Seth and Jenni Bregman have put together a perfect blend of music, libations, cuisine and funky décor. Pop on into their lounge located at 3343 Lakeshore Avenue in Oakland,or even better, I'd recommend grabbing a reservation for supper service upstairs.
All photos by Thomas Hawk