Dec 28, 2018 – Visitors to the Asian Art Museum in San Francisco Sunday may have a chance ring a 2,100-pound, 16th century Japanese bronze bell as part of the 33rd annual New Year Bell-Ringing Ceremony, museum officials said. Visitors will be given tickets on a first-come, first-served basis starting at 10 a.m. Sunday in the South Court of the museum at 200 Larkin St.
Thousands are expected to attend the event so participants who want to ring the bell will be organized in 108 groups of six. No reservations are being accepted.
Museum officials said the bell will be struck 108 times to bridle the 108 mortal desires, which according to Buddhism, torment humans. Visitors can ring the bell to leave behind any misfortune, regrettable deeds or bad luck from the past year and ring in a prosperous new year.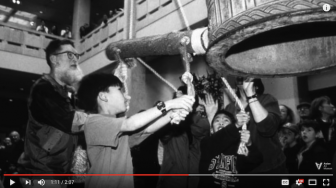 In Japan, the last ring of the bell occurs just after midnight New Year's Eve, but the ceremony in San Francisco will take place from 11:30 a.m. to 2 p.m.
Visitors are encouraged to arrive no later than noon to participate in the ceremony, which also includes chanting, a blessing and a purification ritual with a Zen Buddhist priest. The cost of the ceremony is free with museum admission. Members of the museum can attend an earlier ceremony, which starts at 9:30 a.m. Doors open at 9 a.m. for members.