This is the first in a series of interviews with local artists by Katie Korotzer, a painter and former Piedmont resident who currently resides through the tunnel.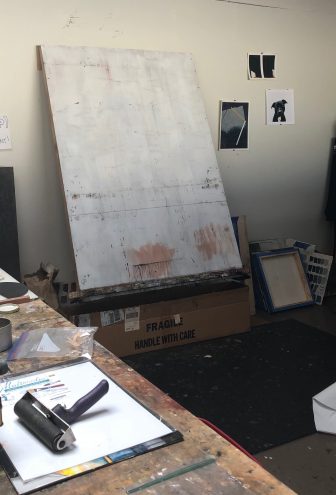 In medical circles Dr. Jerry McLaughlin is known as a pediatric critical care physician.  Keeping his cool while executing complex procedures in the difficult and often emotionally charged intensive care setting appeals to his technical, scientific side.  But after years of keeping his emotions in check at work, Jerry has discovered painting as a way towards more complete self-expression.
A gifted polymath who moves easily between the worlds of science and art, Jerry has also found time to co-author and publish an internationally renowned, comprehensive educational guide for artists who use cold wax medium; earned his adult education teaching credential; taught hundreds of students in workshops throughout the United States, Mexico, Europe and New Zealand; and produced several series of stunning art works. 
To view Jerry's paintings in person is to be emphatically confronted with the concept of strength. He references the built environment in a way that conveys both emotional and physical power.  Rebar, concrete block and gasoline fumes are all part of the gritty reality of urban life that Jerry portrays in his paintings.  Sometimes literally incorporating soil and ash as pigments, Jerry invites us to consider our humanity from beginning to end and feel the joy of beauty as well as the sorrow of loss.  Glimpses of chaotic and riotous underpaintings are seen through lush, dark layers that build to an elegant, structured, and substantial finish. 
Jerry's work can be seen locally at DZine Gallery in San Francisco and at HG Contemporary Gallery in New York. 
During my recent conversation with Jerry, he revealed more about why he began to paint, the sources of his inspiration, his thoughts about what he wants his paintings to say about him and how a viewer might experience his work.
KK: How did your painting career begin?
JM: There was a simple impulse toward wanting to paint.  I painted for no purpose in the beginning, just playing and discovering.  There were a lot of false starts and a lot of canvases stacked up.  At first I was going through the motions of painting, success was not the point.  But I was confident that I would find my way.  As I became more knowledgeable about color and the materials, my practice became more deliberate. I became more thoughtful about my approach and pushed the direction towards a formal exploration.
KK: Has your scientific background influenced your art?
JM: I've always been a technically oriented person.  In high school I enjoyed Polymer and Organic Chemistry. My first venture into the art world was photography, because of its precise and detailed nature.  However, the lack of dimensionality led me to experiment with printing photographs on alternative tactile materials such as tar and beeswax, and now in painting, cold wax medium.
KK: You seem to have moved with ease between the scientific and artistic worlds.
JM: I've been OK with trying something new and making a new path for myself. To be successful as an artist or a scientist you must have a love of process. After practicing medicine, it's been freeing to not have to meet other people's expectations. Painting gives me space to think and feel deeply about myself, my relationships and the bigger world. In my studio I can cry or dance, I can be internally motivated and deal with the consequences of my choices; an option not available in the world of medicine.
KK: Describe the importance of poetry in your work.
JM: I'm interested in egalitarian themes that touch everyone: the nature of the self, fellowship, beauty and loss. Yet those are such broad topics and paintings come from a more granular experience.  Poetry is a road into a more personal place.  A colleague introduced me to the sonnets of Edna St. Vincent Millay. Her life and poetry became a huge influence on me when I began to paint.  A correspondence with photographer Duane Michaels led me to Walt Whitman and Constantine Cavafy.
I always begin my paintings with words and numbers written on the back of the wood panels.
KK: Any final thoughts?
JM: Through my teaching I've seen how wonderful people feel when they are empowered to do something they are passionate about. Success is not measured by what other people think; don't let fear and other people stand in the way of being your own person. It's important to do what you want to do in all aspects of your life; to be willing to try the things you are interested in without relation to outcome.