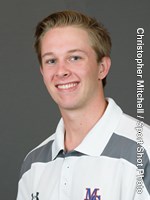 Piedmont High graduate (2016) and current junior at Macalester College, Graham Low, was selected the MIAC Max Molock Most Valuable Player of the Year by the league's head coaches, as the conference announced its year-end awards today. Low is the first Macalester baseball player to be named MIAC Player of the Year in the history of the program.

Low had an outstanding season at the plate, batting .370 with nine doubles, two triples, seven home runs and 29 runs batted in. The catcher/designated hitter led the Scots in homers, total bases (71), slugging percentage (.710) and on-base percentage (.450) while ranking first in the MIAC in slugging, second in home runs and fifth in total bases. In a win over St. Olaf on May 2, Low went 4-for-4 with three doubles and a homer. Against Saint John's on Apr. 22, his two-run home run in the sixth turned a 2-1 deficit into a 3-2 victory. Last spring he was named All Region by American Baseball Coaches Association.
Macalester, coached by Matt Parrington, finished the year with a 21-17 record overall and an 11-9 mark in the conference. The Scots qualified for their second MIAC Playoffs in a row for the first time in the program's history.