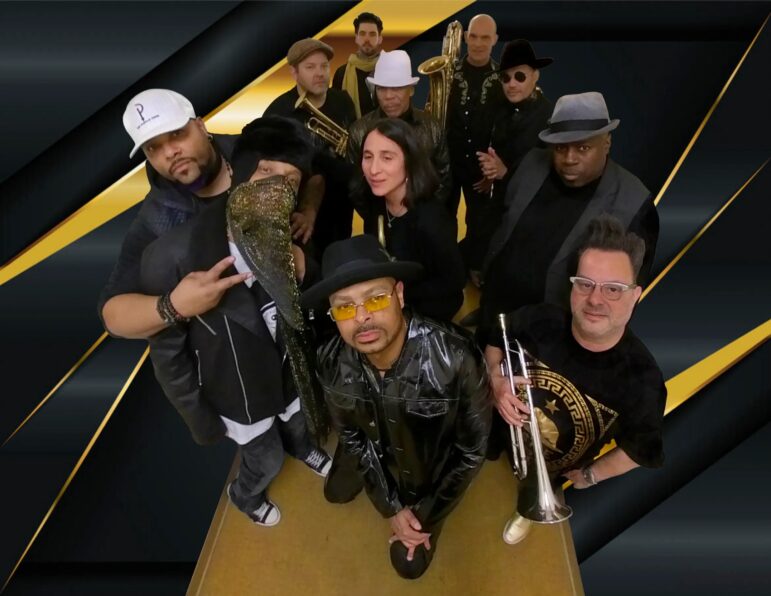 Freebie of the week: Sure, you can do your holiday shopping online these days, but where's the fun in that? Haven't we all gotten sick and tired of doing everything online the past couple of years? And now that live fun and entertainment is available again, why not hit a holiday shopping bazaar masquerading as a free outdoor musical festival? Especially if you're a Prince fan? That's kind of the idea behind the Holly Jollypalooza this Sunday in Pacifica. Organized and hosted by Miramar Events and Longboard Margarita Bar, the event runs 11 a.m.-4 p.m. at  the Eureka Square Shopping Center Parking Lot, 20 Eureka Drive, in Pacifica.
Front and center in all the fun is the Jingle Bell Rock Stage, featuring three Bay Area bands. Headliners are the popular Prince tribute act, The Purple Ones, a 12-piece band led by trumpeter Morty Okin; guitarist and music director Levi Seacer Jr., a longtime collaborator with Prince and a member of his New Power Generation band; and a trio of lead vocalists. The band doesn't go in for imitations or '80s costumes, these performers focus solely on the music, traversing Prince's full catalog and tossing in cuts from such related outfits/musicians as Sheila E., Morris Day and The Time, and more. They take the stage around 2:20 p.m.
Also performing are the party/dance band SuperBad (12:40 p.m.) and the country outfit Urban Outlaws (11 a.m.) A variety of DJs pumping hip-hop, club music and more will also be on hand. As for the shopping, a Holiday Gift Expo will offer a variety of options, including works from some 40 artists and craft-makers. Wine, beer and other libations will be available, and a small army of food trucks will be ready to service your culinary needs. There's even a kids' fun zone. Admission is free. More information is at miramarevents.com/holly-jollypalooza. 
---
A showcase for emerging stars: "The Future Is Now" is an entirely appropriate title for an annual event highlighting the achievements of talented young people who are about to embark upon what could turn out to be long and illustrious careers on opera stages around the world. And that is what San Francisco Opera has planned for the nine vocalists and two pianists in its prestigious Adler Fellows program, who will be featured in recital at 7:30 p.m. Saturday in the Herbst Theatre at 401 Van Ness Ave. Sopranos Anne-Marie MacIntosh, Mikayla Sager, Elisa Sunshine and Esther Tonea and mezzo-soprano Gabrielle Beteag will take the stage along with tenors Victor Cardamone and Edward Graves, baritone Timothy Murray and bass Stefan Egerstrom, assisted by pianists Andrew King and Marika Yasuda in a concert with conductor Eun Sun Kim and the San Franciso Opera Orchestra. Their program includes excerpts from works by a panoply of celebrated composers: Johann Strauss II, Handel, Mozart, Donizetti. Berlioz, Britten, Gian Carlo Menotti, Puccini, Verdi, Wagner, Alban Berg, Bellini, Rossini and Offenbach. Tickets, $39-$69, are available at sfopera.com and 415-864-3330. 
---
'Home,' again: The Bay Area premiere of an important new work by Pulitzer Prize-winning composer Kevin Puts highlights a chamber concert in the gorgeous Elizabethan Great Hall of Burlingame's Kohl Mansion (Music at Kohn Mansion is now celebrating its 40th season) and the artists presenting it are the members of the Miró Quartet, champions of Puts' music for the past decade. "Home" for String Quartet, written in response to the migration crisis and in search for the essence of the idea of home, was written in 2019 specifically for the Miró, violinists Daniel Ching and William Fedkenheuer, violist John Largess and cellist Joshua Gindele. They play it again on a program that also featuring the Haydn String Quartet in B-flat Major and the Beethoven Quartet in C-sharp minor at 7 p.m. Sunday. A pre-concert conversation with the artists, conducted by St. Lawrence String Quartet cellist Christopher Constanza, is at 6 p.m. in the Kohl Mansion Library. Tickets, $25-$55, can be found at musicatkohl.org or 650-762-1130. 
---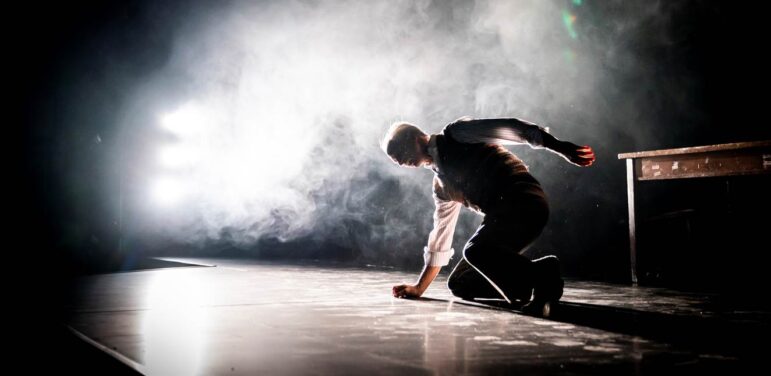 A Holocaust 'Lesson': If there is such a thing as an opposite to the "boy who cried wolf" phenomenon, Jan Karski would be it. The Polish resistance fighter during World War II witnessed firsthand the Nazi atrocities against Jews in the Warsaw Ghetto and the Belzec death camp, and reported his harrowing observations to a variety of Western leaders and officials, including President Franklin D. Roosevelt. His reports drew a variety of reactions – shock, concern, also doubt – but no concerted action. After the war, when his warnings had been tragically verified, Karski ceased talking about what he witnessed, even as he was employed as a teacher at Georgetown University. It wasn't until more than three decades later, when filmmaker Claude Lanzmann interviewed him for his epic documentary on the Holocaust, "Shoah," that Karski repeated his accounts of the acts of genocide he had witnessed.
On Friday, Berkeley Repertory Theatre opens the solo stage show "Remember This: The Lesson of Jan Karski." David Strathairn, a Bay Area native and Oscar-nominated actor well known locally for his performances at American Conservatory Theater and Berkeley Rep, portrays Karski, as he has in several previous productions of the show. It might seem an odd fit for a holiday run, but at a time when racism and anti-Semitism are on the rise (we're looking at you, Kanye West), and when Donald Trump, who still has a legitimate shot at being re-elected president, hosts White Nationalist and Holocaust-denier Nick Fuentes at his home, is there any doubt that Karksi's story is as relevant as ever? The show plays at Berkeley Rep through Jan. 1. Tickets are $20-$94; go to www.berkeleyrep.org. 
---
Dances with Christmas: A beloved holiday staple is once again sashaying its way to Bay Area stages. We are talking about Smuin Contemporary Ballet's 27-year-old "Christmas Ballet," which is a treat for holiday lovers and fans of dance styles ranging from classic ballet to Latin, hip-hop, jazz and swing, tap and more. Packed with a variety of performances both old and new, the "Christmas Ballet" features two acts, one dedicated to classic ballet and the other to a wide mix of more contemporary styles. Works made popular by late company founder Michael Smuin will share the stage with two world premieres – one each by former choreographer-in-residence Amy Seiwert and former Smuin member Nicole Haskins. And, yes, of course, the endearing chestnut "Santa Baby," featuring "the world's longest feather boa" (as the company puts it) is on the program. Performances are Thursday through Sunday at the Mountain View Center for the Performing Arts; Dec. 9-10 at Carmel's Sunset Center; and Dec. 14-24 at the Yerba Buena Center for the Arts in San Francisco. Tickets run $25-$99; go to www.smuinballet.org. 
The post Best Bets: Holly Jollypalooza, Adler singers, Miró Quartet, Smuin 'Christmas Ballet,' Holocaust drama appeared first on Local News Matters.