An exuberant winter gala featuring ballroom dancing, music, burlesque and circus-inspired performances, fine arts, fashion, artisan vendors, various oddities, absinthe cocktails (for those 21+) and a crowd decked out in creative, attention-grabbing costumes — all within a spectacular venue — may seem too good to be true.
But San Francisco's Edwardian Ball is exactly that and then some, and it's returning to the Regency Ballroom for two nights in February 2022.
Edwardian Ball founder Justin Katz explains that the ball began as an homage to Edward Gorey, known for his books, illustrations, plays and costume designs. Held annually, it has since morphed into a popular participant-focused event that welcomes all and encourages attendees to go bold with their attire and style.
As Katz shares, "People come in unbelievable costumes and characters and co-create an imaginary world of music, dance, fine art, fashion — every different kind of medium of creativity, all mixed together in two days of celebration."
Dark cabaret ensemble Rosin Coven and the circus-theatrics troupe Vau de Vire will once again serve as co-hosts in 2022, providing original scoring, choreography and a multimedia performance onstage. Next year's ball will also include performers such as Le CanCan Bijou, fashions such as those from the San Francisco corsetry boutique Dark Garden and displays from local artists such as Kinetic Steam Works.
In addition to the Grand Ballroom's offerings of dancing, varied performances, music and self-serve portrait stations, Edwardian Ball attendees can explore the Museum of Wonders' fine art installations, stage shows and "cabinets of curiosity." There's also the Vendor Bazaar featuring the art and wares of more than 50 vendors.
For each Edwardian Ball, Katz and his team choose a particular Gorey story to spotlight and "bring to life onstage." For the 2022 ball, they decided on "The Wuggly Ump."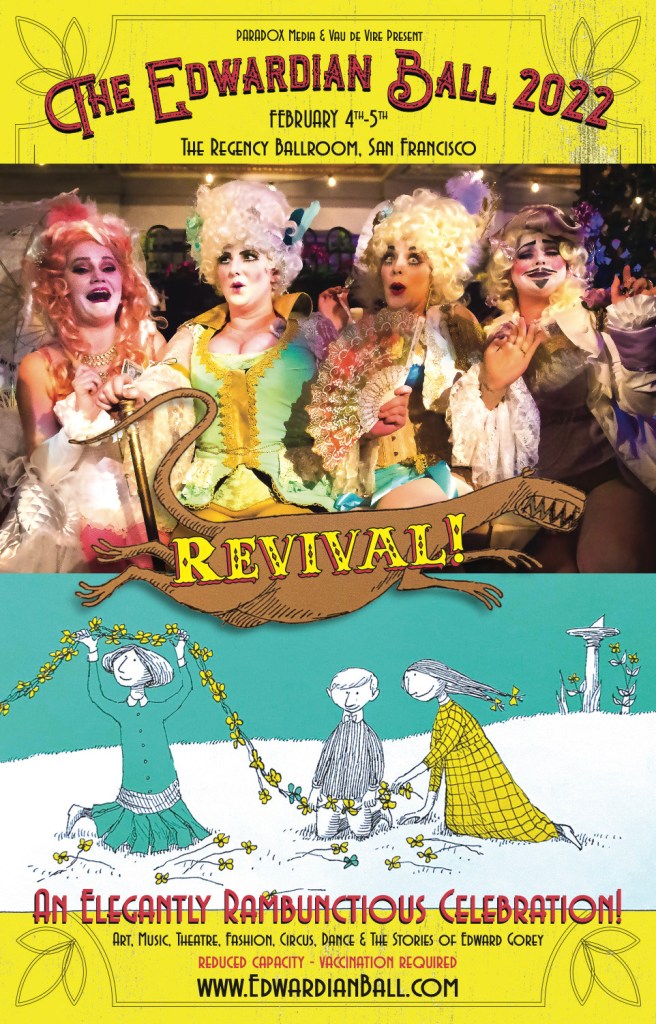 Says Katz of the selection, "I was thinking about what kind of experience and what kind of tale do people need when they're coming back together. So I chose one of Gorey's light and colorful little tales that's just kind of fun and silly. I didn't want one of his long, dark, nebulous tales. … I was like, 'That's not the year for it.'"
For the "Wuggly Ump"-inspired ball, Katz and company plan on using the Regency Ballroom to create, on their part, a thoughtful, immersive experience for all participants. A significant component of the planning involves how to use the venue to its fullest.
In an interview, Katz explains, "I think that the challenge is, 'How do we make the best possible use of all the little nooks and crannies and turns and hallways and alcoves and mezzanines of this beautiful venue that we get to be in, and how do we continue to innovate that? More importantly, where does the participants' co-creation of this world meet the ideas that we bring here?'"
Each Edwardian Ball also has a certain theme. Fittingly, the 2022 Edwardian Ball's theme is "Revival!" Factoring into this elegant two-night celebration of Gorey, the arts and imagination is the recognition of the ongoing COVID-19 pandemic and trepidation about getting back together. Katz explains they've cut the event's capacity by 50% to ensure attendees have room to move about the Regency Ballroom and feel comfortable and safe. They've also instated another change: no VIP ticket offerings for the 2022 ball.
Katz says, "We decided to just create one ticket because now, more than ever, it just feels like everybody's important. And the chance for us to just be there together is important."
The 21st San Francisco Edwardian Ball, "Revival!", presented by PARADOX Media and Vau de Vire Society, will be held Feb. 4 and 5, 2022, at the Regency Ballroom, 1300 Van Ness Ave., San Francisco. The ball is open to ages 12 and up; proof of vaccination is required. Two-day tickets have sold out, but single-night tickets, $145 per night, are still available. For tickets and information, go to edwardianball.com/shows-and-tickets.