The pandemic and its resulting travel restrictions caused a 17% drop in foreign student enrollments at California universities and colleges last year even though many took online classes from their homes overseas, according to a new national report.
But, now, more international students have begun to arrive in person at American campuses as vaccination rates improve and visas are somewhat easier to obtain, officials said. Numbers are still below pre-pandemic levels, but a preliminary survey shows that, nationwide, foreign student enrollments are up 4% this fall from a year ago and that a surge may occur in coming semesters.
California once again enrolled the most international students of any state, according to the Open Doors 2021 Report, compiled by the U.S. State Department and the Institute of International Education (IIE), a nonprofit organization that administers many exchange programs. However, the California number dropped in fall 2020 to 132,750 students, down from nearly 160,600 the previous year, the report showed.
The state's experience aligned with a nationwide decline of 15%, to about 914,100 students, including those who stayed in the U.S. on post-degree research and work permits.
The most dramatic loss was among new students, dropping 45.6% nationally. Many of them were unable to travel to the United States, while many older students could stay on or near their American colleges during the pandemic.
California's many large and prestigious research institutions are popular with overseas students, especially in Asia. Six California campuses – the University of Southern California and UCs in San Diego, Los Angeles, Berkeley, Irvine and Davis- were among the top 20 U.S. campuses enrolling the most foreign students, the Open Doors study said.
All took a hit in enrollment and tuition revenues in the 2020-2021 school year, particularly among new students.
USC, a private institution in Los Angeles, still enrolled the most foreign students in the state – 14,992, despite a 13% decline. USC ranked fourth nationally, after New York University, Northeastern University in Boston and Columbia University in New York.
The five UC campuses with the top international enrollments saw reductions ranging from 4% to 14%, partly depending on how many ongoing graduate students remained in California during the pandemic. UC San Diego enrolled the most, 10,824; followed by UCLA, 10.273; Berkeley, 9,184; Irvine, 7,766; and Davis, 7,422.https://datawrapper.dwcdn.net/qCNsw/2/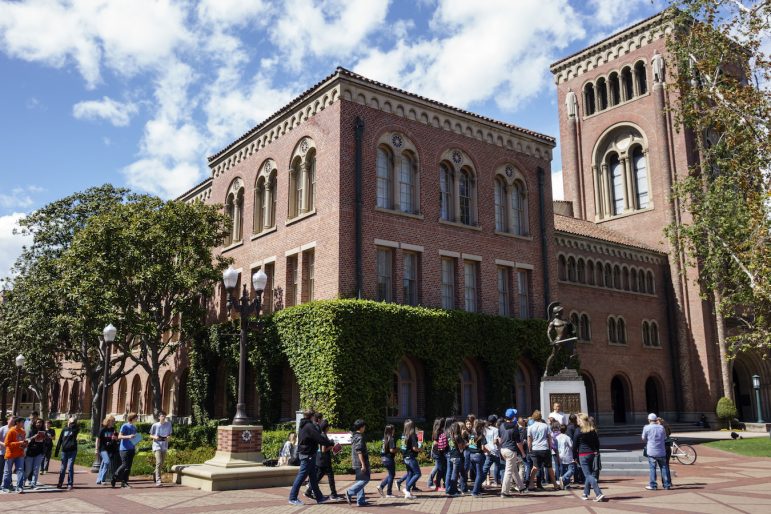 China sent the most students by far to U.S. colleges, 317,299, although down about 15% from the year before. India and South Korea were next, 167,582 and 39,491 after significant dips too.
Nearly half of international students stayed enrolled via online classes they often took from their home countries last year, officials said. Without those online classes, enrollment declines and losses in tuition revenue at U.S. schools would have been much worse, experts said.
At UC, the large numbers of foreign and out-of-state students long has been a controversial issue. Some California families say that those students are taking the place of state residents; campuses deny that and insist the extra revenues and cultural diversity benefit everyone.
The latest state budget calls for extra state funding to help UC Berkeley, UCLA and UC San Diego reduce international and out-of-state students to 18% of each campus' undergraduate population by 2024-25. Last year, those students comprised between 22.1% and 23.5% of undergraduate enrollment at those campuses.
Beyond the Open Doors report, which surveyed nearly 3,000 campuses, a smaller so-called "Snapshot" study of 860 schools revealed some optimism about recruiting and enrolling foreign students. With an uptick this fall, about 65% of those students are physically on campuses – compared to 47% the year before – while the rest take online classes, the survey said. IIE did not track this data before the pandemic but the vast majority of international students probably were taking in-person classes then.
During a recent webinar about Open Doors, IIE chief executive officer Allan E. Goodman predicted that foreign enrollments would "increase very rapidly" by next year. "People have deferred their dream to study abroad but have not abandoned it," he said.
He and other officials emphasized the benefits of student exchanges.
"International students are central to the free flow of ideas, innovation, economic prosperity, and peaceful relations between nations," Matthew Lussenhop, the U.S. State Department's Acting Assistant Secretary for the Bureau of Educational and Cultural Affairs, said in a statement.