The Bay Area is a hub of artistic expression, attracting artists, writers and musicians from around the globe to live, work and create. We highlight some of the offerings here.
---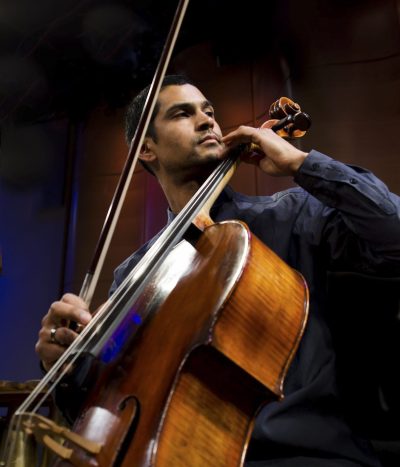 Wearing two hats: Renowned cellist Jeffrey Zeigler, a familiar artist to Bay Area music lovers who heard him play with the Kronos Quartet for eight years, returns here both to serve as guest leader for the New Century Chamber Orchestra's series of concerts this week and as featured soloist for two of the works on the program. One of them is the world premiere of composer Mark Adamo's "Last Year," a cello concerto that speculates on how Baroque composer Antonio Vivaldi might have come up with a version of his famed "The Four Seasons" as created for a modern world in the grip of global warming.
Zeigler will also be prominently featured in William Grant Still's "Phantom Chapel." Other pieces on the program are the world premiere of "In Me," composer Paola Prestini's reimagining of a work by vocalist Tanya Tagaq, and Andy Akiho's "Oscillate."
NCCO's concert series begins at 7:30 p.m. Thursday in Berkeley's First Congregational Church, moving to Palo Alto Friday for a 7:30 p.m. performance in the First United Methodist Church, with repeats at 7:30 p.m. Saturday at the Herbst Theatre in San Francisco and 3 p.m. Sunday at the Osher Marin Jewish Community Center in San Rafael. Tickets, $30-$67.50, are available through City Box Office at cityboxoffice.com and (415) 392-4400. Masks and vaccination proof are required for in-person attendance, and for those who would prefer to stream the recorded program, $30 tickets are also available, purchased in advance with links mailed a week after the performances and viewable for a full 30 days thereafter. Find more information at ncco.org.
---

First of a series: One of Handel's enormously successful operas, 1735's "Alcina," comes to the Zellerbach Hall stage at 3 p.m. Sunday, courtesy of conductor Harry Bicket and his London based early-music ensemble The English Concert.
The production is the first in an annual visit to UC Berkeley's Cal Performances by the group to mount a Baroque opera or oratorio, most frequently one of Handel's. And it's a corker — featuring not one, but two sorceresses (the title gal and her sister Morgana) on an enchanted island ruled by Alcina, who, in addition to transforming some of her previous suitors into beasts, trees, streams and rocks, has cast a spell on her would-be heartthrob, the knight Ruggiero, so that he cannot remember that he is betrothed to his real beloved, Bradamante. Who, we hasten to add, arrives on the island disguised as her own brother Ricciardo to try to pry her honeybun from Alcina's clutches.
Canadian soprano Karina Gauvin, celebrated for her expertise at the Baroque stuff, sings as Alcina; mezzo-soprano Elizabeth DeShong is the determined Bradamante, and mezzo-soprano Paula Murrihy takes the pants role as the somewhat benighted knight Ruggiero. Find tickets, $37-$125, at calperformances.org and (510) 642-9988.
---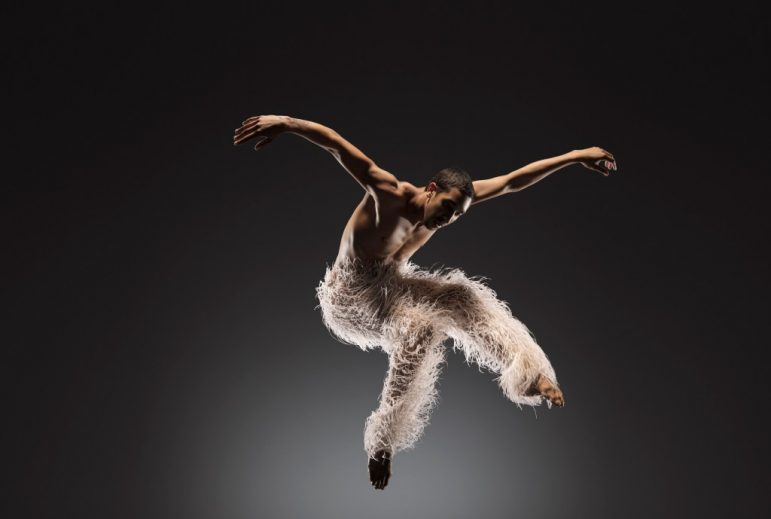 King for a weekend: It's of course heartening to see all arts groups and live performances return from the pandemic drought, but we are especially pleased to see the return of choreographer Alonzo King and his enormously talented LINES Ballet company this weekend, which promises not just an evening of great dancing but also a chance to see what one of the most fertile artistic imaginations in the Bay Area can bring to the stage.
A recital by LINES Ballet tends to have the feeling of an "event," perhaps because King's choreography tends to incorporate so many interesting ideas and people. He is almost like the string theory of dance — he is known to call his works "thought structures" and has said his choreography is governed by laws of energy and mass just like objects on Earth. Lighting, sets and costumes are crucial to him, and King tends to work with similarly innovative artists in this regard.
And don't get us started on his musical collaborations. Take this weekend's program for example. The centerpiece work, 2019's "Azoth," finds King teaming up with the legendary jazz saxophonist Charles Lloyd and the brilliant pianist Jason Moran. The work also features a stunning lighting installation by Bay Area artist Jim Campbell. The program includes excerpts of popular King works "Grace," "Writing Ground," "The Radius of Convergence" and "Rasa."
Performances are 7:30 p.m. Saturday and 5 p.m. Sunday at the Yerba Buena Center for the Arts in San Francisco. Masks are required inside the theater. Tickets are $50-$100; go to linesballet.org.
---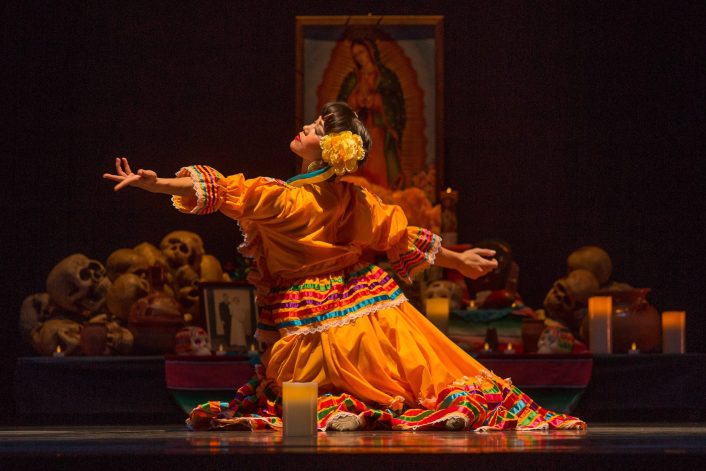 Celebrating Day of the Dead: Events, exhibitions and shows honoring the Dia de los Muertos (Day of the Dead) holiday have been staged all over the Bay Area, but two annual classics are still to come.
Oakland Ballet returns to the stage this weekend to present its popular Day of the Dead show. The program includes a reprisal of the Day of the Dead-themed "Luna Mexicana," as well as a brand new work,"Los Cumpleaños," both choreographed by company artistic director Graham Lustig. Also included are performances by the Aztec dance ensemble Nahui Ehekatl & Co. and Hayward-based Ballet Folklórico México Danza.
Performances are 7:30 p.m. Friday and 2 p.m. Saturday at Oakland's iconic Paramount Theatre. Proof of vaccination is required, and masks must be worn inside. Tickets are $27-$62; with a limited number of VIP packages at $102-$203. Go to oaklandballet.org.
Meanwhile, the San Francisco Symphony is presenting its 14th annual Dia de los Muertos concert on Saturday, and there's more going on than just a concert. The lobby of Davies Symphony Hall will be done up that day with a variety of immersive art installations and traditional altars by local artists and the Mexican Museum, as curated by Martha Rodríguez-Salazar, and will offer a variety of family-friendly activities.
Visitors are welcome to visit the lobby beginning at 1 p.m. At 2 p.m. the Symphony, conducted by Enluis Montes Olivar, will perform works by Arturo Márquez, Astor Piazzolla, Inocente Carreño, José Pablo Moncayo García, Carlos Chávez and Flor Amargo, a singer, pianist, and multi‐instrumentalist who will also perform in the concert. Tickets are $25-$175; proof of vaccination is required, and masks must be worn inside the hall. Go to sfsymphony.org.
---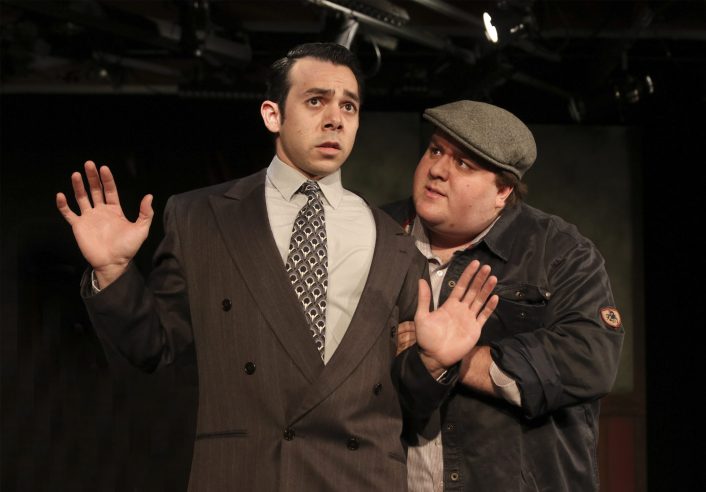 'Justice' in San Jose: In 1933, Brooke Hart, the popular son of a San Jose department store owner, was abducted and eventually murdered in a crime that shocked the city. But the nightmare didn't end there. Two men who were apprehended for the kidnapping were lynched in St. James Park, setting off a national debate about mob rule and vigilante justice.
Former San Jose mayor Tom McEnery captured the incident and aftermath in a 2016 play, "Swift Justice," based on a book of the same title by Harry Farrell and told from the point of view of Joseph Karesh, the Hart family's rabbi and spiritual advisor.
The play was given its debut by San Jose's Tabard Theatre Company, and five years later, at a time when mob anger seems more prevalent than any time in recent memory, the Tabard is bringing a slightly revised "Swift Justice" back to its stage.
With director Vickie Rozell leading a cast of 11, "Swift Justice" plays Friday through Nov. 21 at Tabard Theatre in San Jose's San Pedro Square. Proof of vaccination is required, and masks must be worn inside the theater. The play will also be available for on-demand streaming Nov. 22 through Dec. 9. Tickets are $16-$45. Go to tabardtheatre.org.