Don't let anyone tell you differently — there's magic to be had in a parking lot. For the last three weekends, tucked between murals of a skinless tyrannosaurus rex and a collage of Bay Area iconography, actors from the Oakland Theater Project have gathered in the lot behind FLAX Building on Martin Luther King, Jr., Way to make history inhabiting worlds shaped and written by Kathleen Collins, a multidisciplinary artist who wrote films, plays, diaries and stories that explored class, racial tension, gender dynamics and, perhaps most importantly, Black women as whole, imperfect beings of yearning.
The show, "Begin the Beguine" comprises four non-linear one-acts performed back to back without intermission, as co-director and lead actor Dawn L. Troupe takes the audience through the lives and ruminations of Black women in spaces and time of what could be Manhattan, or it could be your neighborhood, the park by your house, the apartment building down the street. Troupe stars in each work, with Michael Socrates Moran as co-director and supporting characters played by Margherita Ventura, Leon Jones, Benoit Monin and Kimberly Daniels, whose presences frame how the internal languishing of Collins' leads extends beyond their bodies.
Troupe, a Bay Area native who has worked with the likes of Daveed Diggs and Rafael Casal, and performed in shows such as "Moby Dick" and "The Wiz," shudders trying to describe the depth in Collins' words.
"She's a seer," she says. "She relishes all of it: the pain, the joy, the discomfort. She wants us to sit with it all, and have dialogue. This time, when we are listening to BIPOC voices, women, it's profoundly an honor to have this in my hands, my body. Grace had landed on me."
Collins was born in New Jersey in 1942, studying at Skidmore College and Paris-Sorbonne University before becoming a professor and settling into the NYC art scene of the 1970s, during which the majority of her work was produced — and overlooked. Collins passed in 1988 from breast cancer, having made two films, including 1982's acclaimed "Losing Ground," but the majority of her output was eclipsed by the art world's deference to white male artists, filmmakers and writers.
There's been a surging revival of sorts for her work in the last 15 years after her daughter, Nina Lorez Collins, began sifting through these artistic archives circa 2006, within which lay a mind and a voice that speaks truth to the world of today, just as it did generations ago. Efforts to give Collins her legacy within the art world in the last decade have seen a book of her short stories "Whatever Happened to Interracial Love?" published in 2016, "Losing Ground" restored and enhanced for the screens of today, and a volume of her collected diaries, scripts, notes and the like, published in 2019.
When the Oakland Theatre Project's John Wilkins came across Collin's yet unproduced works, Troupe says, Nina Collins licensed them almost immediately. While a group in New York has also performed the works earlier this year, this may very well be the West Coast world premiere of Collins' theater work, and what better place for the probing artistry of a fully realized Black woman than Oakland, California?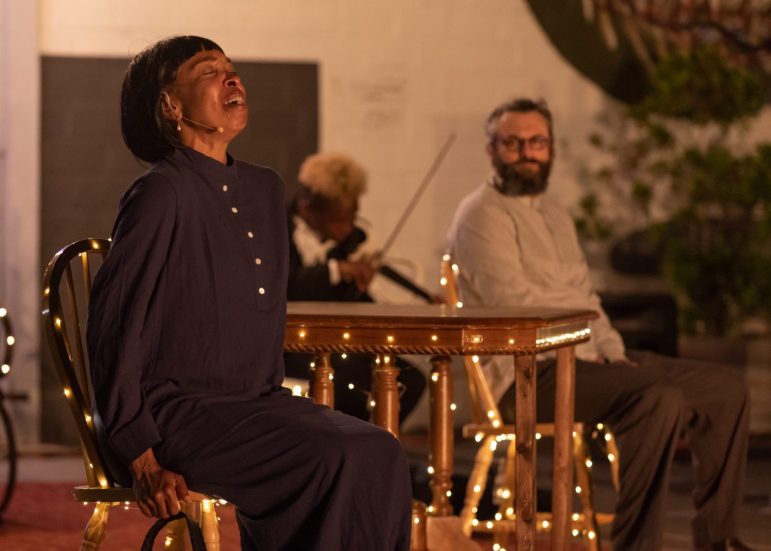 The first work, "Remembrance," indeed feels like a memory, and no more so after a year of sheltering in place: staring at the same walls, hearing the same voices, and — as Troupe's character is inclined to do — escaping into the bathroom to cry and revel in the silence. Our sole character is a wife, mother and dancer, who on paper, should want for nothing. She volleys between composure and anguish, acutely aware of the chasm between the life she lives and the life she desires, inundated by her familial obligations, her artistry and the revelation that she, despite her fortune, is not cared for, not really seen. Troupe wears yellow head to toe, and will wear a different solid color — green, then red and finally blue — to occupy the minds and tastes of the women that follow "Remembrance."
"I hear from people 'I need to see it again,'" Troupe says, "the deeper that I go into this world of hers, [are] the layers of worlds she's questioning and laying out, that we as Americans really have not taken time to sit with. The world of a Black woman. The tendency to ascribe to Black women these tropes and behaviors and stereotypes rather than the complexity of a human being who has the capacity to experience everything."
From there, the layers pile on. The second work, "The Reading," was written two generations ago, and what is most disturbing is how easily the scene could have been written in 2021. Two women, one white and one Black, wait in the office of a Black psychic, hoping for answers to very different questions. Helen, the white woman, a novelist who overshares, craves the mystic's validation, "I was the book; she was reading me," Margherita Ventura as Helen muses with all the self-importance of a 21st century "Karen." What begins as amicable small talk devolves into a sparring of micro-aggressions and analysis of the intersection of race and gender: "I'm supposed to be violent," Troupe's character throws at an increasingly hysterical Helen, who perhaps would not need words of divine intervention if she thought about anyone but herself.
"It's not dated," Troupe says. "It's a brand new work that we had to decipher, and we're still, each time we perform, we are playing anew, because we continue to discover."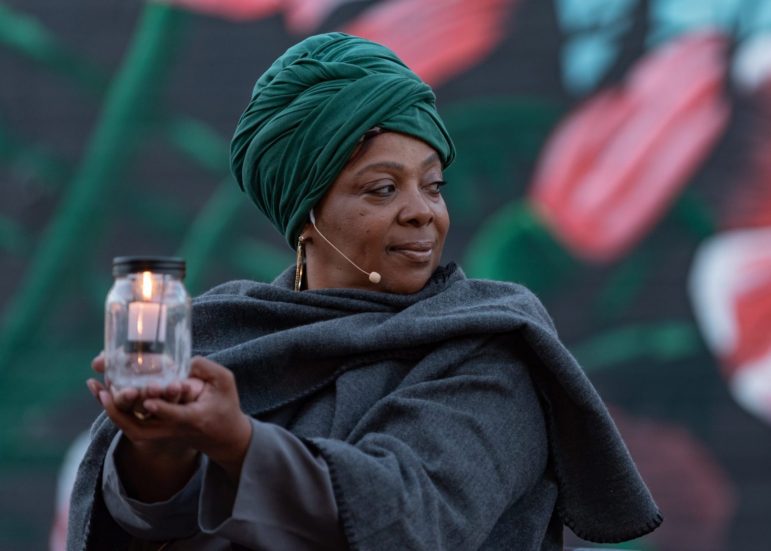 From there, the show veers into the historical wth the titular "Begin the Beguine," a fictionalized evening between actress Ruby Dee and her son Guy Davis, played by Leon Jones, who throughout the play plays both harmonica and violin, and tap dances on top of a precarious table. They are in a park, oscillating between the reality of their relationship and the stories they tell each other to avoid said reality. Like the two women before her, Ruby is eloquent, talented, financially secure and successful in her craft. And like her two predecessors, her joy is just out of reach, confined by circumstances the audience is welcome to fill with their own grief, their own sense of incompleteness.
While not in the same words, these women present an argument against the stereotypes of Black women borne from the history of enslavement and nurtured by ongoing racism and structural inequities. These women have what so many desire: fulfilling and creative careers, families (sometimes), nice clothes, disposable income.
The final one-act, "The Healing," shows the audience Troupe as a middle-aged woman seeking some Kumbaya-inspired alternative healing from a white man, played by Monin. It's a pensive take on the intersection of race, medicine and introspection, made all the more eerie after a year where it seemed like white men — from macho anti-maskers to police who get away with murder to "Stop the Steal" rioters to the new president who isn't living up to his promises — believed they had all the answers.
"These women have no problem being with themselves. As human beings, let alone artists, we struggle being our full selves," Troupe says. "She asks you not to censor your being. And in particular as a Black woman, as a woman, she asks that you let your entire, autonomous self exist alongside other creatures in their fullest capacity. Breath in all the glory."
* Tickets for "Begin the Beguine: A Quartet of One-Acts by Kathleen Collins," which are sold per vehicle, are available for the final weekend of performances Friday-Sunday on the Oakland Theater Project website at oaklandtheaterproject.org. Shows begin at 8 p.m. and run about 90 minutes, with radio audio access. Tickets for the company's next drive-in play, "The Dream Life of Malcolm X" by John Wilkins, directed by Dawn L. Troupe, are also available. The production runs July 23-Aug. 29.